Iona Miller's MYTHIC LIVING
MYTHIC LIVING

IONA MILLER PERMANENT HOME/MENU/ARCHIVE:
http://ionamiller.weebly.com
http://www.facebook.com/iona.miller
Join me on Facebook
Jung introduced the notion that archetypes -- what were called ancient gods and goddesses -- are dynamic patterns that eternally operate in our lives and our world. They are the primal driving forces of man and nature, metaphysical strange attractors whose influence pervades the whole spectrum of domains from cosmic to subatomic. Theirs is the fabric that weaves Above and Below together, seamlessly, as a holographic whole.

Our worldviews, basic assumptions about the way the world is, are undergird with mythic patterns which condition our beliefs, thoughts, feelings and actions. Personal mythology is a vibrant infrastructure that informs your life, consciously or unconsciously. Living mythically means becoming aware of your personal and collective origins. These forms structure our awareness; in them we find the root cause of our difficulties and our healing. Solutions to intrapersonal conflict is a first step toward solving global conflict.




Articles on this Site
See
http://zero-point.tripod.com/pantheon/pantheon.html
for all chapters.

Here at this portal you will find:

PREFACE
FOREWORD
INTRODUCTION

The Concept of Archetypes

Perceiving Archetypes in Daily Living

Archetypes as a Method of Self-Analysis

The Value of the Greek Pantheon

Relationships of Archetypes to Tarot and Astrology

The Four Levels of Experience

Archetypes as a Means of Self-Realization

Practical Techniques for Finding & Realizing the Gods Within

Pathworking with Godforms

Mythical Living: Metaphorical Perception of Experience

Child Archetype in an Artist

Body & Soul

Persephone in an Artist

Gowan on Myth

Godforms as Chaotic Attractors

Hunter S. Thompson Mythopoetic Eulogy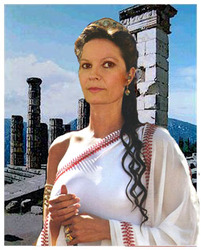 Iona Miller Menu
PANTHEON: Archetypes & You
Behind the Scenes of My Home Page
SPYENTIST: Iona Miller, consultant and transdisciplinarian, is a nonfiction writer for the academic and popular press, hypnotherapist (ACHE) and multimedia artist. Her work is an omnisensory fusion of sacred activism, intelligence reform, science-art, chaos theory, plenum physics, and emergent paradigm shift melding experiential psychotherapy, new physics, biophysics, resonant space, philosophy, cosmology, healing, creativity, qabalah, magick, paranormal, "dirty tricks," media ecology, mind control, paramedia, metaphysics, and culture change.
CHANGE AGENT: Rather than having an interest in specific doctrines, she is interested in the EFFECTS of doctrines from religion, science, psychology, politics and the arts. Our beliefs are the moldable raw material of the psyche, manipulated by governments, media and culture. How do we become what we are and how is that process changing in the near future?
Ms. Miller is published by Phanes Press, Destiny Books (Inner Traditions), Autonomedia, Nexus Magazine, Dream Network, PM&E, Journal of Nonlocality and Remote Mental Interactions (JNLRMI), Chaosophy Journal, OAK, DNA Monthly, Pop Occulture, Schiffer, Bolero, Science-Art Research Centre, and more. She is a Gaia.com Ambassador and serves on the Board of Medigrace.org nonprofit organization. Recent print articles include Alchemy Journal Vol. 10 No.1, Mar 09 (Australia), Paranoia zine #44, #46, #49, #50 (USA), HunterGatheress Journal, Vol. I and Vol. II, JNLRMI (Russia), Der Golem (Germany), Antibiothis I and III (Portugal), The Art of Fetish (Miami), and Journal of Interdisciplinary Crossroads (India). Her artwork has shown in Miami, Phoenix, New York, in magazines and more. Appearances include "21st Century Radio," "Untamed Dimensions," "Reality Portal," " Digital Long Island," "The Ascending Way," etc.